If ye readers got a chance to go to the Maple Syrup Festival in Warkworth ON this past weekend not only was there a great pancake and syrup feast to be had at the Sugarbush, but also another outstanding Spirit of the Hills Art Show to feast your eyes on the so-fine diorama by Clive Russell or Bronson Smith's etched woodcuts, and Shere Rasmussen's colorful textiles among other works.
If you missed out, it is nice to report that the audacious appliquee artist Sharee Rasmussen will be having a show at the Vogue Gallery in Toronto. Last Summer, Sheree was one of three  very fine textile artists that had a wonderful textile exhibition in  Cobourg.
So it is a pleasure to note that Sheree's solo show, Fabrications, is at the  Vogue Gallery in Toronto, from April  6th to 27  at 216 Avenue Road  – mid-town Toronto. Here are a couple of her works that may be seen at the show: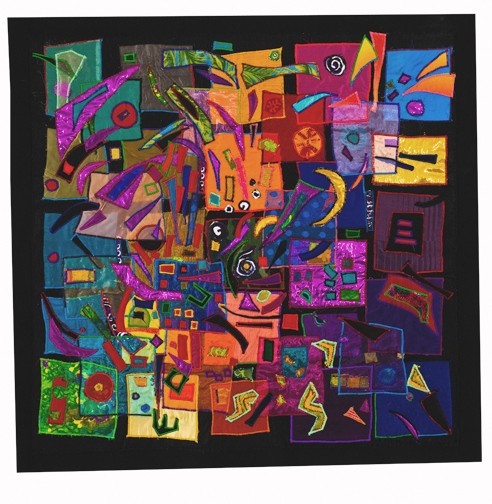 Night Wind – certainly has the helter skelter motifs  and color streaks of contemporary events.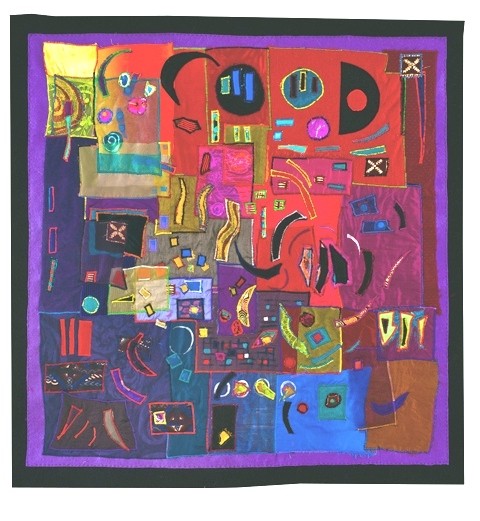 Moon over Chaldea – has hot latin hues and tunes  – a bit close to Chihuahua
So while in the Toronto Yorkville area , take in the Vogue Gallery Show and enjoy the provocative  Rasmussen textile arts and colors.