Looking for March Weekend family fun? Consider the   Warkworth Maple Syrup Festival in Easter Ontario just below Rice lake. This year is the 25th anniversary festival celebrations and it appears the county and township have pulled out all the stops to making the weekend celebrations, Saturday and Sunday March 12-13, a fun time for all. This is an opportunity to explore the rolling hills of NorthUmberland countryside just 150K east of Toronto.
Festival-goers have a choice of driving direct to the Sugar Bush or going from town by the free  bus to the Maple Forest site where there are rides, entertainment, and of course a maple syrup fest meal of   panacakes, sausage, and freshly made maple syrup for $7 for adults, $3 for children . Sugarbush attendees  get to see how the maple syrup is collected and made – both the old fashioned fire and vat way  and the new distillation ovens. As well there are natural trails and craft demonstrations. But don't miss out on the Maple Syrup goodies: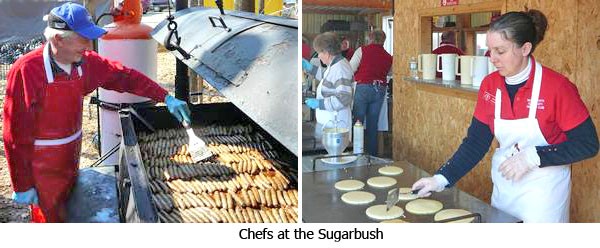 means mapple goodness is on delivery:

In additionf fun for the kids is easily found:
Count on  sugarbush sleigh rides, saw contests, snowshoe races, and three legged plank  races as some of the list of ongoing events.
And everyone can enjoy maple taffy tasting, music of the Potter Band and Land of  Lake Cruisers plus
the clog and square dancing to the sounds of country music.
Back in town there is a entertaining   lineup of  free events  full of fun, curiosity and shopping delights:
– Spirit of the Hills Art Show and Sale
– Antiques Show at the Warkworth Elementary School
-Petting Zoo by the Royal Bank
-Arts and Crafts sale at City Hall
And this is just the starters. There is a Jewelry Bazaar at the Masonic Hall, White Elephants Sale with Gingerbread Tea at the Seniors Center plus my favorite, Mini Golf at St.Paul's United Church. Â And throughout the town their is dining and and shopping as well. In sum, there is a lot one can do with a weekend family trip to Warkworth's Maple Syrup Festival.